Know About
BABAJI (Gurumata Brahmajyoti Ji)
Introduction
Sh. Gurumata Brahmajyoti ji, a saint from Uttarkashi, is affectionately called "Babaji'' by many of her devotees. While she always appeared very simple, only the spiritually elevated could recognize Babaji's true greatness. In the divine palm leaves of Maharishi Kakabhushundi, it was revealed to Guruji Sh. Sanjay Ji through Ramani Guruji by Maharishi Kakabhushundi that Babaji is a "great soul who is Mother Ganges herself and is one with Parabrahma." In other words, she is a God Realized Soul!
She was also called as Muni mai in Uttarkashi, had lived there for many years doing intense sadhana, practicing Kriya Yoga. Her guru in Kriya Yoga was Goswami Ganesha Dutta, a householder. Her Sannyas Guru was Swami Omashramji. She was greatly revered by Paramguru Sri Swami Tapovanji Maharaj.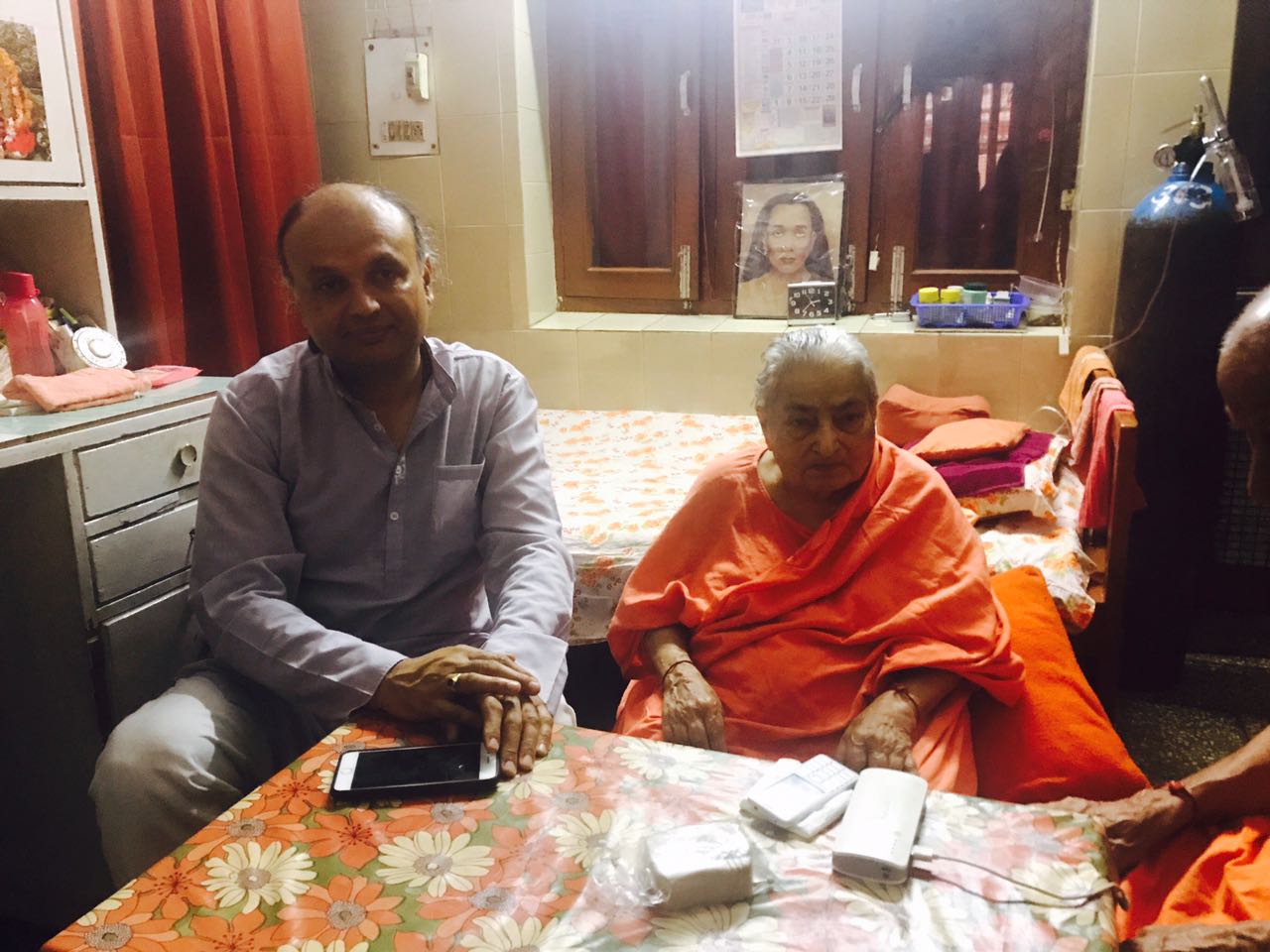 Her association with Maharishi Bhrigu from past lives was mentioned in several palm leaves during her childhood through Bhrigu Samhita. Guruji specifically recalls when he was with her in 2009 in Saharanpur, India listening to the Bhrigu Samhita, Maharishi Bhrigu had mentioned her association with Maharishi Bhrigu himself and Guruji, Guruma dating back to 25,000 years ago in Satya Yuga.
Maharishi Kakabhushundi has also talked about the association of Babaji and Guruji several times spanning back to more than five lives as a "mother-son" relationship.
She established three Bhrigu Ashrams in India - in Haridwar, Uttar Kashi and Kiyani, gaushalas medical dispensaries and schools in many places. Her ashrams were visited by many from all over India. She gave the same love to every individual, regardless of caste, status, etc. In her divine presence, many individuals felt peace and love emanating from her, without her even uttering a word.
Babaji's mission was to revive Sanatan Dharma, Hindu traditions and values, and Gau Raksha (protecting cows). Through her guidance, many children grew up in a Gurukul where they learned Sanskrit and the essence of Hindu shastras and dharma.
The Divinely Arranged Plan to Connect Guruji and Guruma with Babaji
In early 2008, one of Babaji's devotees, Mr Rajan Seth, was browsing the internet and came across the website for Bhrigu Ashram in Southern California. He was surprised to see that there was such an ashram outside of India. He immediately called Guruji and introduced himself, as well as shared details of the Bhrigu Ashram in Haridwar and their Guru - Babaji. Rajanji then asked Guruji if he would like to speak with Babaji. Guruji felt overjoyed from within to be given such an opportunity and requested Rajanji to make the arrangements.
The first time Guruji spoke with Babaji via telephone, there was an instant connection. Babaji's first words to Guruji were "Ab samay mila baat karne ke liye" (you have finally found time to speak to me). Guruji was surprised to hear those words and responded "Babaji, mein to aap se pehli baar baat kar raha hoon" (This is the first time I am speaking with you). Babaji laughed and then revealed that She and Guruji had a connection for many incarnations, spanning thousands of years, and she had been waiting to speak with him. The first updesh (spiritual teaching) Babaji gave to Guruji that day was "Samarpan Karo" (Surrender to the Almighty). From that day forward, Guruji contacted Babaji regularly. In these conversations, Babaji asked that he visit her in Haridwar.
A few months later in 2008, Ramani Guruji visited California. During that visit, Maharishi Kakabhushundi revealed to Guruji through a divine palm leaf reading, that he and Babaji have had a mother-son connection for several incarnations, and that the Mother is waiting on the banks of River Ganges to meet him and that he and Guruma should go there.
The First Meeting
In early December 2008, Guruji and Guruma along with their two children traveled to Haridwar to meet Babaji. Upon meeting Babaji, they felt an immense amount of peace and divine joy in her presence and immediately paid their customary obeisances to the Guru. They noticed Babaji's simplistic, loving, and child-like qualities, although she was perhaps in her 90's. They also observed Babaji's concern for ensuring that each and every individual had been served the wholesome meals cooked in the ashram kitchen.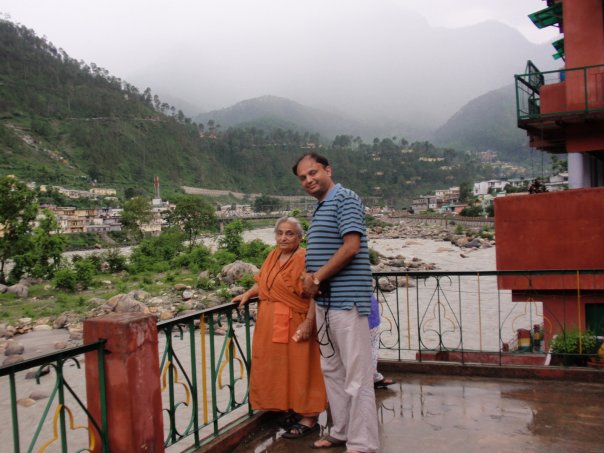 Witnessing the greatness of Babaji, in her natural simplicity, her divine character, and her divine qualities radiating through her words, actions, and her demeanor, greatly humbled Guruji and Guruma. They were overjoyed and felt blessed to have the opportunity to spend the upcoming few days in Babaji's divine presence!
Stunning Darshan of Shri Yukteshwar Giri Ji and His Divine Blessings
Guruji was originally initiated into the divine science of Kriya Yoga by Swamiji Paramahamsa Prajnanananda in 2005. Per tradition, at that time Guruji also took an oath to not disseminate the knowledge of Kriya Yoga, unless by divine instruction.
During the first meeting with Babaji, she showed particular interest in the Kriya Yoga that Guruji had been practicing, and asked Guruji many questions. Guruji responded that he could not discuss the divine techniques as he is bound by the oath he took at the time of initiation.
The next day while Guruji was visiting the ashram a stunning divine event transpired. Babaji asked Guruji to teach her Kriya Yoga. Guruji responded again that he is bound by the oath and therefore unable to teach anyone.
At that time, Babaji suddenly exclaimed and pointed out to Guruji that Shri Yukteshwar Giri (Swami Yogananda's Guru), had appeared right next to him and he was placing his right hand on Guruji's head indicating that Guruji was chosen by the divine masters to disseminate the knowledge of Kriya Yoga.
Babaji was in an ecstatic mood as she shared with Guruji the finer details of Shri Yukteshwar Giriji's darshan - particularly that he was wearing a white robe, had a tall stature, a beard, and glowing eyes. She also described Shri Yukteshwar Giri's facial features to Guruji and repeatedly thanked Guruji for being the reason she got the darshan of Shri Yukteshwar Giri!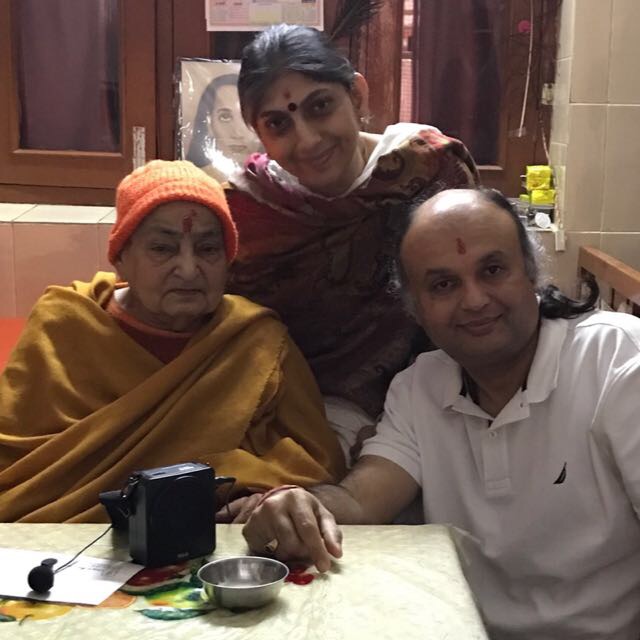 Babaji then said to Guruji that the general public would not believe the events that had transpired and therefore she would write a letter for him in her own handwriting that she had the darshan of Shri Yukteshwar Giriji who authorized Guruji Shri Sanjayji to teach the divine science of Kriya Yoga to the entire world. A copy of her letter in Hindi can be read in Guruji's first book titled "Rashis In The Light of Kriya Yoga".
Later, Guruji explained to everyone at Bhrigu Ashram in Irvine that Babaji and the divine Masters of Kriya Yoga had actually played out a divine leela to get Guruji the authority from God to spread the divine science of Kriya Yoga. This same Kriya Yoga was later renamed to "Gita Divya Kriya Yoga," aka "Geeta Divya Kriya Yoga" or "Geet Divya Kriya Yoga" by the great Maharishi Bhrigu, the divine Masters in the Kriya Yoga lineage, and Babaji herself.
To Be Continued....
OM Tat Sat